The 5 most beautiful panoramic terraces of the Amalfi Coast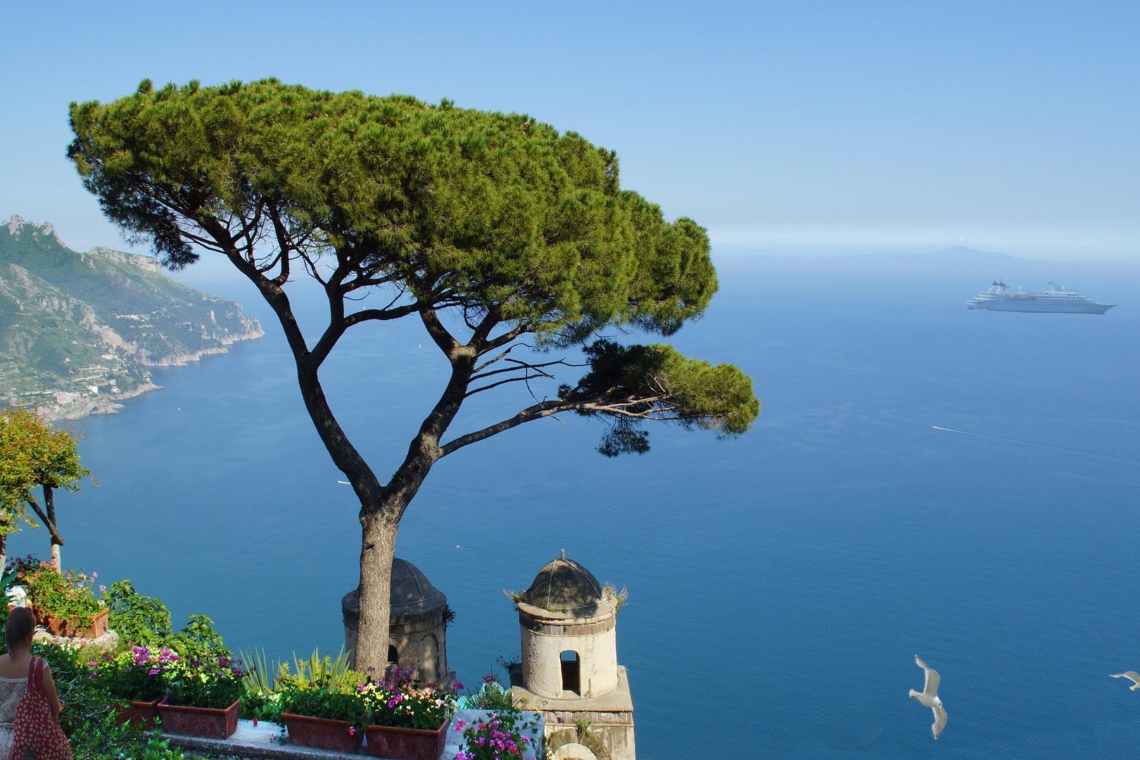 Five locations to admire the most beautiful sunsets of the Amalfi Coast
The Amalfi Coast: the beauty of heritage
There is no denying that the Amalfi Coast is a landscape that is nothing short of poetic. Not surprisingly, it was declared a UNESCO World Heritage Site in 1997 and Renzo Arbore has called it the most beautiful coast in the world. I mean, the divine coast conquers all… but how?
If we were asked what makes the Amalfi coast so special, we would be superficial to say that the divine conquers us simply with its extraordinary beauty. As with people, we can not stop at the only "visual" factor, even if the coast also plays on the spectacular factor. But what gives this last factor? In part, we could explain this by quoting Salvatore Quasimodo: nowhere else like in Amalfi, the intersection between earth and water takes place with a mutual metamorphosis. But the coast is not only Amalfi, rich in history and once one of the most influential maritime republics. It is the heritage that makes it special: it is not just a physical heritage, but an intangible heritage; it is a heritage made up of customs and traditions that still drags on in time, fighting against it and living in people, in the kitchen, in local festivals, in the economy and also in agriculture.
Sun, sea, holidays, aperitifs, walks, trekking and shopping.
Culture, spirituality, culinary specialties, picturesque villages and breathtaking views
Amalfi, Maiori, Minori, Atrani, Cetara, Vietri sul Mare, Conca dei Marini, Praiano, Positano, Ravello, Furore, Scala and Tramonti.
All these aspects and locations are the elements of an unforgettable experience.
With this reading we intend to take you on a tour of the most beautiful terraces of the divine coast.
Praiano
We start our journey from Praiano, a place located between Positano and Conca dei Marini and not far from the Furore Fjord – who said that fjords should be a Norwegian prerogative?
Praiano is a coastal town characterized by pastel colored streets, appearance due to the color of the houses, a bit 'as if we were in some small town of Salento. Despite being a small town, there is a lot to see: from churches, particular and colorful beaches. There are three beaches: Marina di Praia, Le Praie and Cala Gravitella.
Marina di Praia is a pebble beach, surrounded by rocks that act as "walls", a bit like the famous beach of Polignano a Mare (BA), in Puglia. On the promontory stands an ancient Saracen tower, from which were sighted any invaders or visitors, constituting a real defense system for the population of the coast.
Le Praie, our second beach, is accessible by sea and is ideal for enjoying a romantic sunset on the beach.
Last but not least is Cala Gravitella, which you can reach through a long staircase; we recommend that you follow it without haste, so that you can enjoy the view! Overlooking Capri and Positano, it offers a natural swimming pool in a cave, the Fontana dell'Altare. It is the beach of the Amalfi coast where the sun sets later, thanks to its location and its conformation.
If you prefer mountain walks, you can try the Path of the Gods, a historical and literary path that starts from Agevola and reaches Positano.
But what to do after a day spent on the beach or after a nice walk? Do you give yourself a sunset aperitif with panoramic views? Among the best terraces of the Divina, there is that of Voice and Night Grill & Sunset Bar, which offers the opportunity to enjoy a suggestive sunset overlooking Positano, Capri and the islets Li Galli and is an excellent location both if you are in good company and with friends. But let's not just talk about aperitifs… Yes, you can also choose to enjoy a good glass of wine and dine while you enjoy the view!
The two terraces of Positano
After a quiet day in Praiano, it's time to move towards Positano, and you can also do it from the Path of the Gods!
There would be a lot to say about Positano, but since we don't want to bore you, we will try to be brief.
Positano, the historic rival of Amalfi, makes thousands of tourists fall in love every year, Italian and not, thanks to its wide range of activities: from shopping, to the beach and from the kitchen to walks surrounded by nature. Of course, today the two cities are quite different in terms of activities to do, cooking and places to visit, so they don't have much to compete on. Surely, both can be reached by sea from Salerno, but you can also reach Positano from Sorrento, Capri and Ischia.
We recommend you spend a whole weekend in Positano, so you can enjoy it and visit it all.
There is no need to praise the beauty of the sunsets in Positano: you should have understood that they are evocative and poetic but we know that there is a wide choice of places to enjoy the sunset; but you are spoiled for choice. And this is where we come to your rescue, suggesting you two locations with the best terraces that you must visit at least once in your life! This is the Terrace of the hotel Villa Franca and that of Franco's Bar.
The Hotel Villa Franca, whose restaurant Li Galli has received a Michelin star, has one of the best terraces to enjoy the sunset in Positano. So, there you can stay, have lunch and even have a nice aperitif at sunset.
The Hotel Villa Franca, whose restaurant Li Galli has received a Michelin star, has one of the best terraces to enjoy the sunset in Positano. So, there you can stay, have lunch and even have a nice aperitif at sunset.
The Franco's Bar is part of another structure, the hotel Le Sirenuse, and takes its name from one of the founders of the hotel (1951), Francesco Saverio dei Marchesi Sersale. Their barmen are called mixology champions: in addition to the classic cocktails, signature cocktails and classic cocktail reworkings are also served. The latter is a characteristic that, together with their being a bar with the cult of the old fashioned style (when bars were only bars), guaranteed him the presence on the famous Vogue.
Erchie – Maiori
Erchie is a small town that is part of the town of Maiori: not chaotic, perfect for holidays, an enviable beach and beautiful to visit even in low season. This seaside village boasts a beautiful terrace surrounded by greenery: Cria Terrace. The terrace is a real restaurant, located in the Regional Park of the Lattari Mountains, and overlooking the sea. The location was born as a project of Vincenzo Piegari, one of the protagonists of the broadcast 4 Restaurants, which was awarded the Best appetizer of the Cilento. The project, specifically, has just to combine Cilento and Costiera: the Cilento is brought in front of the Divine through the kitchen. Specifically, in this restaurant, are served both aperitifs and apericena that reflect the Cilento hinterland. In doing so, the consumer knows approaches it, living the Cilento while being on the Amalfi Coast: the atmosphere of the Amalfi Coast is combined with the flavors of the Cilento; It is like going to a fusion restaurant but, in this case, the experience will be definitely more sensory.
Among the specialties that you can enjoy while admiring the sunset of Erchie, there is the artichoke tonic, a reinterpretation of the classic gin and tonic produced with artichoke liqueur, tonic water, gin and lime. This drink is often accompanied with taralli intertwined with the flavor of fennel, but we recommend you also try the seasoned wet bread, a variant of panzanella (a summer recipe from central Italy, similar to rice salad but with bread instead of rice). You can taste the local cold cuts and cheeses and if you are vegetarian, we inform you that they also offer vegetarian menus!
Marina d'Albori – Vietri sul Mare
Have you decided to visit the coast and stop in Vietri sul Mare to spend a wonderful day? We at AmamiViaggi can confirm that this is a very good idea.
If you are particularly interested in ceramics, you are in the right place: this cool and summer town (for friends, Vietri) is the mecca of ceramics and the major manufacturers have their own style and design so it's up to you to choose which to buy. As you will have understood, there is a real cult and it is difficult not to love the aforementioned ceramics.
But what to do once you have finished your decorative shopping? Why not walk through the colorful streets of Marina d'Albori! It is a small town, perhaps the smallest, located between Vietri and Cetara. It is the most picturesque village of the coast that, thanks to the cult of Vietri ceramics, cheerful and super colorful, decorates houses and streets. The typical Mediterranean architecture, made of buildings made of stone and lime and tiles in the Neapolitan style, is the protagonist of ceramics. This small village is framed by the vegetation of the coast, in particular the fragrant lemon trees. In this charming, and perhaps a little fairytale, location you will find the Fish, a seafood restaurant with a terrace overlooking the sea.
We highly recommend that you go to this place in the evening, so as to live a magical and romantic atmosphere given by the union of the panorama with the soft lights: in short, a breathtaking view!
Our virtual journey ends here. We hope to have aroused curiosity in you and to have given you some ideas about your next weekend or your next holiday!